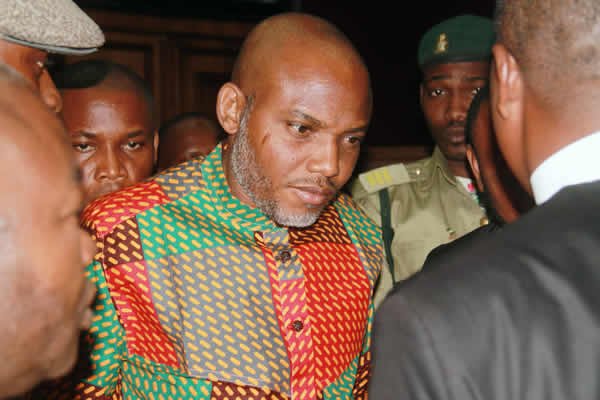 I was right when I said that by the end of 2016, IPOB will be declared a terror group. Today the Feds have pinned them as terrorists and charged another one of them with terror. This country is going down and the Biafrans did not take my advise, instead they rained curses on me and fled my Facebook page after I put in 8 weeks of work for them this time last year.
The Federal Government on Tuesday re-arraigned leader of the Indigenous People of Biafra, Nnamdi Kanu, along with other accused on charges that include terrorism, before the third judge of the Federal High Court in Abuja.

The accused were re-arraigned before Justice Binta Nyako on amended 11 counts, comprising terrorism, treasonable felony, managing an unlawful society, publication of defamatory matter, illegal possession of firearms and improper importation of goods.

All the counts were in connection with the accused persons' alleged broadcasts on Radio Biafra and agitation for the secession from of states in the South-East and South-South zones and other communities in Kogi and Benue states, to constitute a Republic of Biafra.

The original charges filed on December 18, 2015 had only six counts, with the exclusion of terrorism which is now the 11th count in the new charges filed on November 11, 2016.
With files from Punch