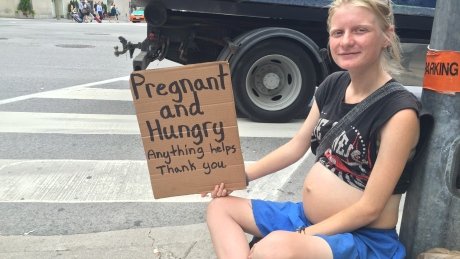 Most nights, Amanda Watson, 21, sleeps with her partner on a hammock slung from trees somewhere along Toronto's waterfront.
Most days, she panhandles for a few hours outside Union Station, the city's downtown transportation hub, and then explores the city.
It's the routine for many people living on the streets in this city, except Watson is both homeless and pregnant.
"It's easy to be able to be like, 'I'm hungry' and just sit down for a couple of minutes and get something to eat, rather than trying to pick your whole life back up," she told CBC News.
For the most part, Torontonians are generous, Watson says. Many passersby have taken her out for a meal and given her some money. She says every little bit helps.
Only a small percentage of the 120 homeless women who will give birth in the city this year will end up keeping their babies, according to Toronto Public Health. The rest of the babies will be taken by child protection services, such as in the case of Watson, whose first-born was taken by child protection services.
READ MORE