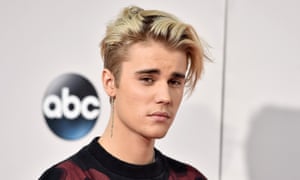 Jordan Stauss/AP
Instagram followers have a social abuse problem. Some just come on my page as trolls and I hit them with Fire for Fire. A magazine once asked me why? I will not entertain cyberbullying on my domain. If you don't like my views, go elsewhere. I once closed my social media accounts for one week and came back after FFK a Nigerian politician convinced me to come back. Well, his hit song "Sorry is now in full effect." He may open the account again anytime he decides to log back in but don't expect that soon. Selena Gomez should be feeling like a moron now.
Justin Bieber the world's sixth biggest Instagram user, has deleted his account and left the photo and video service.
The Canadian singer had 77.9 million
Instagram
followers, followed only 75 users and had posted 3,779 images and videos, according to data from Social Blade, which made him one of the biggest draws for users to the Facebook-owned social media site.
Bieber first turned his account to private, limiting access to his photos to those he manually approved, before deleting his account in its entirety leaving visitors to Bieber's account page are greeted simply with a "Sorry, this page isn't available" message.
A row with ex-girlfriend Selena Gomez, 24, appears to have been the cause of Bieber's Instagram disappearing act. He recently posted a series of photos with Sofia Richie, 17, daughter of Lionel Richie, with whom he is allegedly in a relationship.
Fans reacted badly to the new photos, leading to Bieber threatening to shut them out.
Bieber said: "I'm gonna make my Instagram private if you guys don't stop the hate this is getting out of hand, if you guys are really fans you wouldn't be so mean to people that I like."
Gomez then replied: "If you can't handle the hate then stop posting pictures of your girlfriend lol - it should be special between you two only. Don't be mad at your fans. They love you. They were there for you before anyone."
Bieber responded with: "It's funny to see people that used me for attention and still try to point the finger this way. Sad. All love.
"I'm not one for anyone receiving hate. Hope u all can be kind to my friends and each other. And yes I love my beliebers."
With Files from Guardian