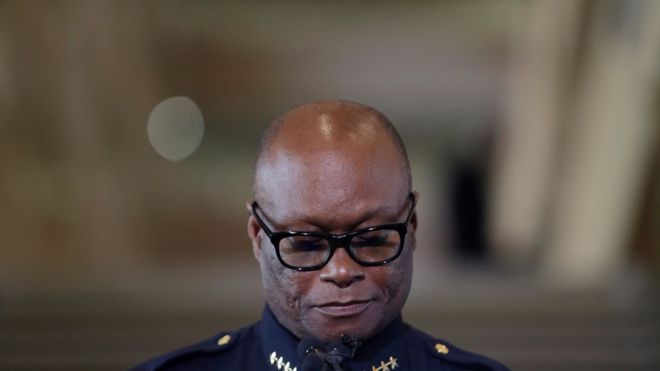 I know Chief Brown, at least on social media. I met him 4 years ago online when he would tweet names of bad officers in his department and got very blunt. I remember him tweeting a suspension of an officer that beat his wife and said he won't tolerate domestic violence in his team even mentioning the officer's name. Mr Brown's son, David O'Neal Brown Jr, first shot dead a private citizen, Jeremy McMillan, as McMillan drove his family to his sister's house. He then shot police officer Craig Shaw, who was responding to the first shooting, more than a dozen times. Mr Brown took a leave of absence, according to local news reports from the time, and there was speculation that he would resign.

It was not the first time he had suffered loss - in 1988, his former partner Walter Williams was killed in the line of duty. Three years later, his younger brother was shot dead by a drug dealer.
When five Dallas police officers were shot dead by a sniper on Thursday, it fell to David Brown, the city's police chief, to sum up the shock and grief of the force and the community.
A black police chief who had worked diligently to improve community relations, and reduce the use of force, now had to confront a racially motivated attack by a young black man against his officers.
"We're hurting. Our profession is hurting. Dallas officers are hurting. We are heartbroken," he said.
He spoke on behalf of the Dallas Police Department, but his words echoed a personal statement he made six years earlier, in the wake of another Dallas police death.
In June 2010, just weeks after he was sworn in as police chief, a young Dallas officer and father was shot dead on father's day. The killer was Mr Brown's 27-year-old son.
"My family has not only lost a son, but a fellow police officer and a private citizen lost their lives at the hands of our son," he said.
"That hurts so deeply I cannot adequately express the sadness I feel inside my heart."
With Files from the BBC