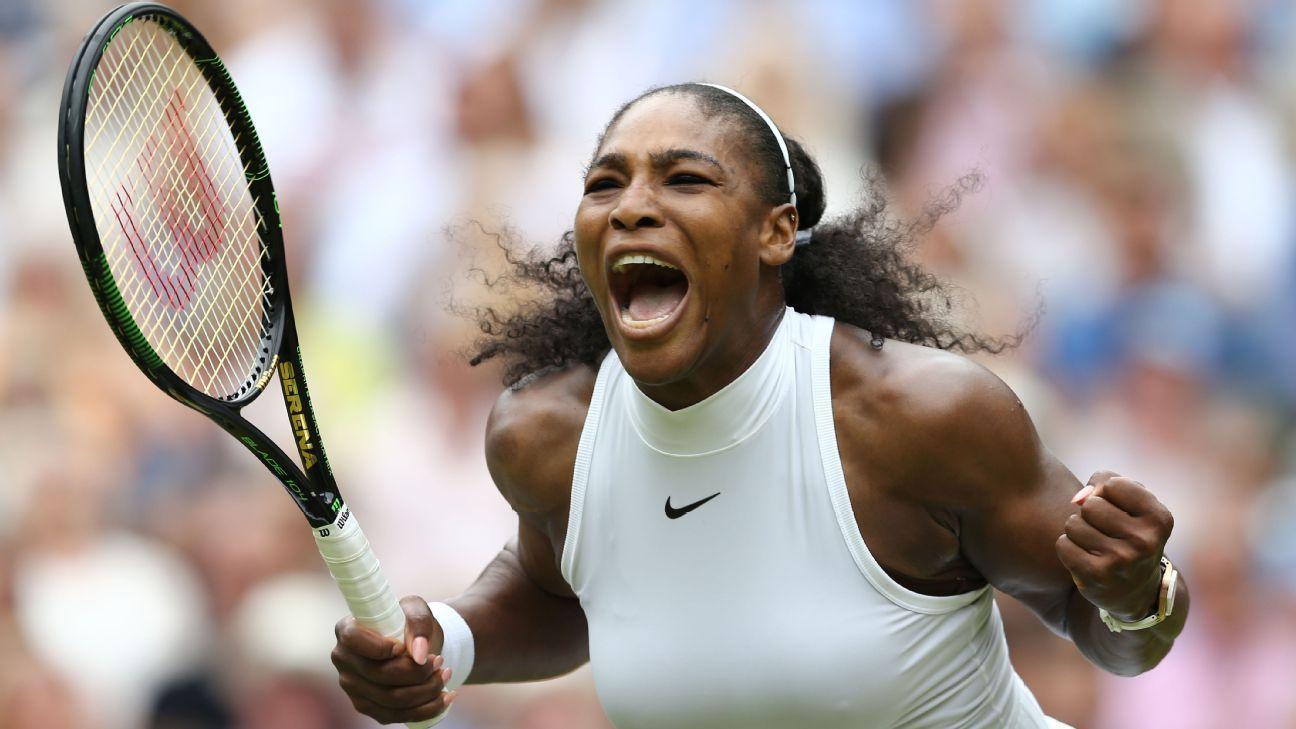 LONDON -- Serena Williams, who kept coming close without quite getting there,insisted she was not focused on No. 22.
Now she finally has it. And so she can flaunt it.
Williams lifted both arms overhead and raised two fingers on each hand right there on Centre Court to show off the magic number after winning her record-tying 22nd Grand Slam title by beating Angelique Kerber 7-5, 6-3 in the Wimbledon final Saturday.
"Yeah, it's been incredibly difficult not to think about it. I had a couple of tries this year," Williams said during the trophy ceremony. "But it makes the victory even sweeter to know how hard I worked for it.
"I have, yeah, definitely had some sleepless nights, if I'm just honest, with a lot of stuff. Coming so close. Feeling it, not quite able to get there."
She pulled even with Steffi Graf for the most major championships in the Open era, which began in 1968. Now Williams stands behind only Margaret Court's all-time mark of 24.
This was Williams' seventh singles trophy at the All England Club -- only Martina Navratilova, with nine, has more -- and her second in a row. Her victory at Wimbledon a year ago raised her Grand Slam count to 21, but while she almost had added to that total since, she was not able to.

There was a stunning loss to Roberta Vinci in the US Open semifinals in September, ending Williams' bid for a calendar-year Grand Slam. Then came losses in finals to Kerber at the Australian Open in January, and to Garbine Muguruza at the French Open last month.

"If I'm totally honest, I'm not relieved to have the 22nd, I'm relieved to have Serena back," said Williams' coach, Patrick Mouratoglou. "Everything depends on that. I don't look at the reward, I look at how to achieve it. And there was something missing for a few months, and the thing that was missing was just Serena. The tennis player was there, but Serena as a person wasn't really herself so she was much more beatable.

"She got that back over time. I think we didn't realise how much time she need to recover from the loss at the US Open. Maybe I'm being wrong, but that's how I feel."

In the rematch against the fourth-seeded Kerber on Saturday -- the first time in a decade two women met to decide multiple major titles in a single season -- the No. 1-ranked Williams came through. This goes alongside her six championships at the US Open, six at the Australian Open and three at the French Open.

The 34-year-old American did it, as she often does, with nearly impeccable serving. She slammed 13 aces, including at least one in each of her first eight service games. She won 38 of 43 points when she put a first serve in.

And she faced just one break point -- at 3-all in the second set, it represented Kerber's only real opening -- and shut the door quickly and emphatically, with a pair of aces at 117 mph and 124 mph, her fastest of the afternoon.

There was more that Williams did well, though. So much more. Facing the left-handed Kerber's reactive, counter-punching style, Williams was by far the more aggressive player during baseline exchanges, trying to make things happen. And she did, compiling a big edge in winners, 39-12.

Williams returned well, hammering second serves that floated in at 75 mph and breaking serve once in each set. And she volleyed well, too, winning the point on 16 of 22 trips to the net, including a tap-in on the last point. Soon enough, she was wrapping Kerber in a warm embrace, then holding up those fingers to symbolize "22."

"At the end, I was trying everything, but she deserved it today. She really played an unbelievable match," said Kerber, who hadn't appeared in a major final until beating Williams in Melbourne. "I think we both played on a really high level."

It was breezy, but that didn't seem to hamper Williams, whose older sister Venus sat in her guest box, a couple of seats over from music's power couple of Beyonce and Jay Z.