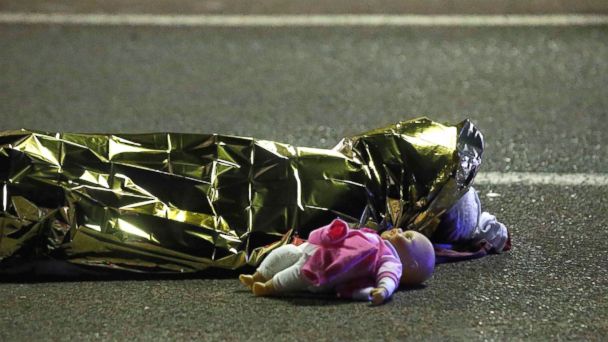 T
en children and adolescents were among 84 people killed on the waterfront here, when a Tunisian who lived in this seaside city intentionally drove a heavy truck through crowds of people until he was shot dead by police Thursday evening.Paris prosecutor François Molins said the deadly attack on tens of thousands of people celebrating Bastille Day in the French Riviera city on Thursday evening also left some 200 people injured, including 25 who are still on life support.
Bouhlel — who yelled "Allahu Akbar!" during his rampage — managed to continue driving for another 1,000 feet before being surrounded by officers and shot dead in a hail of bullets. The new details of carnage came as Mr. Molins gave the first official account of how Mohamed Lahouaiej Bouhlel, a 31-year-old father of three, carried out the attack.
Lahouaiej Bouhlel fired a handgun at three police officers who attempted to stop him toward the end of his rampage, Mr. Molins said, but then managed to drive forward another 1,000 feet before he was finally killed by police.
Lahouaiej Bouhlel was "completely unknown" to intelligence services, who so far have no indication he was radicalized, but Mr. Molins said he was known to police for threats, violence and thefts over several years. Lahouaiej Bouhlel was convicted in March of assault following a traffic accident using a truck pallet as an improvised weapon, according to the Justice Ministry (View a roundup of what we know about the suspect).
Authorities identified Lahouaiej Bouhlel, who was mistakenly described as a French national earlier on Friday, using personal documents found in the truck and a fingerprint check.
Police searched Lahouaiej Bouhlel's home in Nice, trying to determine if he acted alone or had the support of accomplices, especially in helping him rent the truck used in the attack, a security official said.
The Islamic State hasn't claimed responsibility for the assault, but social media accounts supporting the Sunni Muslim extremist group celebrated the attack, according to SITE Intelligence Group, which monitors extremist activity.
"Even if yesterday's attack hasn't been claimed by a terrorist organization, this type of attack corresponds precisely to the constant incitements to murder that these terrorist organizations regularly distribute," Mr. Molins said. He added that the investigation will seek to determine any links between Lahouaiej Bouhlel and "criminal terrorist organizations."
A freelance professional truck driver, Lahouaiej Bouhlel had received a 10-year residency permit allowing him to live in France after marrying a French woman, security officials said. He had a history of domestic violence and was separated from his wife, one of the officials said.