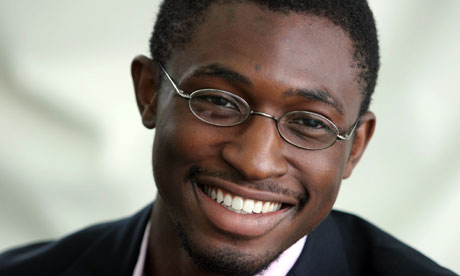 Former Nigerian Minister for Finance Dr Ngozi Okonjo-Iweala was estatic when she tweeted this morning congratulating her son Uzodinma on his book which was adapted into an award winning movie. The book is titled
Beasts of No Nation.
Uzodinma Iweala is an author, sociologist and physician who hails from Nigeria. His debut novel, Beasts of No Nation, is a formation of his thesis work at Harvard. It depicts a child soldier in an unnamed African country. The book, published in 2005, has received considerable critical acclaim from sources like Time Magazine, The New York Times,Entertainment Weekly, The Times, and Rolling Stone.
Iweala attended St. Albans School in Washington D.C. and also attended Harvard College atHarvard University earning an A.B., magna cum laude, in English and American Literature and Language in 2004. While at Harvard, Iweala earned the Hoopes Prize and Dorothy Hicks Lee Prize for Outstanding Undergraduate Thesis, 2004; Eager Prize for Best Undergraduate Short Story, 2003; and the Horman Prize for Excellence in Creative Writing, 2003. He is a graduate ofColumbia University College of Physicians and Surgeons, class of 2011. He is currently a fellow at the Radcliffe Institute for Advanced Study at Harvard University.
He won the New York Public Library's 2006 Young Lions Fiction Award. In 2007, he was named as one of Granta magazine's 20 best young American novelists.
With files from Wikipedia