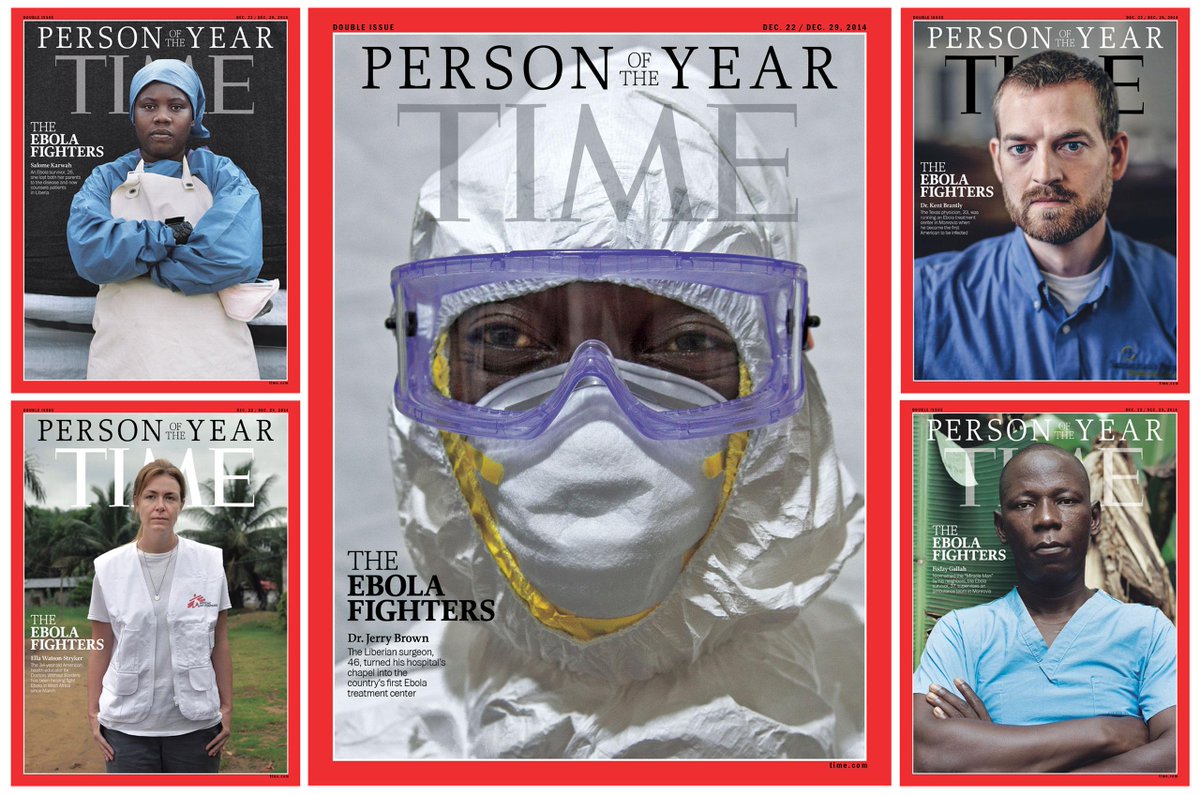 T
ime magazine named Ebola fighters as its 2014 Person of the Year.
"Ebola is a war, and a warning," Time magazine editor-in-chief Nancy Gibbs wrote in an editor's note. "The global health system is nowhere close to strong enough to keep us safe from infectious disease, and 'us' means everyone, not just those in faraway places where this is one threat among many that claim lives every day. The rest of the world can sleep at night because a group of men and women are willing to stand and fight. For tireless acts of courage and mercy, for buying the world time to boost its defenses, for risking, for persisting, for sacrificing and saving, the Ebola fighters are Time's 2014 Person of the Year."
"Anyone willing to treat Ebola victims ran the risk of becoming one," she added.
Many of us were unsung heroes, who cared and fought it together by educating each other in Nigeria A COUNTRY OF 177 MILLION. To everyone that did something to educate the next, Thank U! All my work was in a volunteer capacity! I was born to serve just like I went to Congo in 1995 as a volunteer US Pharmacist.
Ironically I even wrote a post to TIME days ago to make Dr Ameyo Stella Adadevoh the Person of the Year because I thought she was deserving. Nigeria would have been the worst epidemic of all if she didn't stop Patrick Sawyer from leaving that hospital.
Going to Ground Zero in Lagos to report this unfolding tragedy at now 354 shares on FB
I went on to use social media heavily @Healthreports a twitter handle I created in 2009 and never tweeted on it, passing the information from Nigeria's Federal Ministry of Health to the people.
Reporting from First Consultants where the staff died to even going to the streets educating sex workers to get off the streets and also market women to wash their hands.
Finally Radio Ebola my global newscasts during the ongoing epidemic.
Pls don't forget Patrick Sawyer's estranged wife Decontee Kofa who was the most hated woman in Nigeria. She spoke to me via twitter and is also an EBOLA FIGHTER with her foundation and events
I dedicated a handle just to educate my people in Nigeria @Healthreports. Read my article on Nigerian TV: http://www.nta.ng/2014/10/06/what-the-united-states-of-america-can-learn-from-nigeria-on-ebola-in-the-usa/
Google #HNNHealth and #Ebola together to see my coverage. I began volunteering for Sierra Leone to educate the people via social media which has been a weak point in their war. 84 new cases last week alone! I covered lockdown weekend in Freetown and traveled to Liberia to interview Patrick Sawyer's Cousin in law at one point.
The entire Nigerian Federal Ministry of Health, Dan Nwomeh who tweeted for the minister 24/7 and the frontline healthcare workers, thank u for working together to progress together.
For the issue above, the magazine published five covers featuring different Ebola fighters.

Dr. Kent Brantly, one of the American health care workers who contracted Ebola while fighting the outbreak in West Africa, was one of them.

Brantly called the selection a "huge honor" in an ongoing battle.

"Ebola fighters are not people who did something courageous," Brantly said on the "Today" show, where Time unveiled its Person of the Year. "They are still in the trenches fighting."Finalists for the annual title — given to "the person or persons who most affected the news and our lives, for good or ill, and embodied what was important about the year" — included Ferguson protesters, Russian President Vladimir Putin, Taylor Swift, Alibaba CEO Jack Ma, Apple chief Tim Cook, NFL commissioner Roger Goodell and Masoud Barzani, the acting president of the Iraqi Kurdish Region.
Pls listen to my podcast below